Beautiful People Do Not Just Happen
Rewind to 2012. It's a new school year, I'm 24, sitting in a classroom with 18-year-olds. "What am I doing with my life, why am I so far behind?" screamed the demons in my head, day in and day out. I'd go home, back to my parent's house, feeling like I've lost all control. I felt like I should have had a career, apartment, life partner, and a solid core of friends by now. I could check one thing off that list. I had a great boyfriend, and I was lucky for that. Or so I thought. Eventually, I realized I had little control in that relationship as well. There I was, 24 years old, insecure, lost, and in the shadows.
This is when it all began. I needed to find some type of control in my life. Something that was mine, and no one could say or do otherwise. Before I knew it, I found a form of control. I was finally able to release any negativity, shame, or judgment I was feeling. I preferred feeling empty, rid of everything in my head, than feeling lost. Was it healthy? No, of course it wasn't. I knew that. But the feeling it gave me, that control, that power, overshadowed everything, even my health.
Once I started, I couldn't stop. It became an addiction which I was led to believe I couldn't leave behind. I eventually told my boyfriend, who insisted I tell my parents. They didn't get it, no one did.
Just eat.
Snap out of it.
You look great how you are.
Where did you learn to do it?
What did I do wrong?
What is wrong with you?
But you love food.
You have such a great life.
...just some of the things they'd say.
From the outside it appeared I had the perfect relationship. Professional hockey player and the pretty brunette student - what was there to worry about? We had so much in common, but still our own separate lives that we let each other enjoy. But it didn't take long for me to fall into his shadow. Him and his priorities wore the pants in our relationship. I catered to his every need, trusted him beyond belief and put him first, no matter what. Exam tomorrow, but he needs a pregame meal made right now...meant put the books away and get in the kitchen. And guess what? I lost control there, too.

Come November, I moved in with my boyfriend. My parents, him, and myself all thought this would be the best thing for me. His career was demanding of his time, leaving him exhausted, unmotivated from a bad day, or traveling for days at a time. So there I was, living in a 700 sq ft apartment, just me, my thoughts, and it ... getting worse as time went on. Sleepless nights while he was on the road, haven't heard from him after a "night out with the boys". I was being sent screenshots of text messages he has sent to girls, along with blog posts about him cheating, yet I let him sweet talk his way out of it – because I thought he loved me and could change.
After I completely surrendered any control I had left, to him, in came the emotional abuse. "I'm nothing without him; worthless." "If I get fat, he'll leave me."  I couldn't do anything right. If he wasn't high, nothing else existed until he could find his drug of choice. The only thing that started to exist in these moments was the physical abuse. The damage was done. I was tired, mentally exhausted, and too scared to leave or do anything wrong. All I could do was try and hide, and what better way than to be thin and try to disappear.
Eventually, I was diagnosed with depression, anxiety, and it, the demon in my head. "It" was an eating disorder. Now I call him Ed, treating him as an entirely different person than myself.
Fast forward a year. I found myself single, seriously depressed, and not wanting to make much effort in my social life to be around the people who truly loved and cared for me. Sad, right? The only thing I had going for me was I was thin! Finally, I had control over something - my body! I could wear whatever I wanted. I felt confident in a bikini or crop top. I was getting compliments wherever I went. There was no better feeling than that. Wrong. It is easy (sometimes) to put on a happy face, but no matter how I looked, nothing changed the fact that I still couldn't find happiness, acceptance, or just shut off all the demons in my head.
After leaving one therapy center for another, I've found two therapy angels. The first, who I saw for just over a year, helped me come so unbelievably far, I could not be more grateful. Each two-hour session with her was spent in tears, slowly peeling off all the layers of emotional trauma I didn't even know I had gone through. My current therapist has a completely different approach, and each hour and a half session with her is spent peeling through even more layers, leaving me speechless at how the smallest things in life can have the biggest impact.
Putting together puzzle pieces of incidents that had happened to me since childhood all came together to form a cruel bond with Ed. In the span of ten years, I have been...
physically & mentally abused,
shamed,
name-called,
controlled,
threatened,
excluded,
demeaned,
disrespected, and
cheated on.
I didn't tell anyone. I put on a happy face and everything seemed perfect from the outside. I lost touch with some of my lifelong best friends. I had so many passions and goals, but lost those as well. I didn't want to go out with the friends I did have left. And I certainly was losing the desire to exercise or do yoga. Why did I let this all happen?
I didn't let it happen. Ed let it happen. Eating disorders are not a choice, and my experiences may have shaped me in to the strong woman I am today, but they sure as heck do not define me.
I don't even recognize the person I was a few years ago. Sure, the anti-depressants help, but so have the hours of therapy and really hard work. I refer to the girl who was caught in that trauma and then relationship, a completely different person than the woman I am today. I've also found a lot of calmness, comfort, and peace with my mind and body image through yoga and meditation. It also never hurts turning to the big man above, as well. I put a lot of my faith in Him.  I am now a follower of God and would have it no other way.
Lastly, it is with utmost excitement that I can honestly say I have found my worth. I will never again let anyone treat me less than I deserve. I know my value and what I have to offer.  The self-respect I have for myself will not allow me to settle for anything less, ever again.
I finished my Bachelor of Commerce degree, I have a set career path, reconnected with and met some of the best friends I could ever ask for, and a family (and dog) who are my biggest fans and support group. I could not be happier with my life. I completed my Yoga Teacher Training, and am excited to embark in a new journey and help those who have suffered realize their true beauty through yoga and nutrition.
It hasn't been easy and it won't be an easy road ahead, but that's why I'm here. I don't want to suffer alone. I don't want to suffer in silence anymore. I want people to know it is okay to speak up if something has happened, such as rape or abuse, or any self-shaming. Don't be scared. It isn't your fault. I want to end the stigma around eating disorders and mental health.
Without going trough those muddy waters, I wouldn't have bloomed in to the beautiful lotus I am today.
"The most beautiful people we have known are those who have known defeat, known suffering, known struggle, known loss, and have found their way out of the depths. These persons have an appreciation, a sensitivity, and an understanding of life that fills them with compassion, gentleness, and a deep loving concern. Beautiful people do not just happen."- Elisbeth Kübler-Ross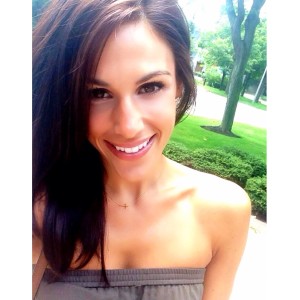 Jennifer (@jennilynnxo) is a passionate, caring, and outgoing 28-year old that has been stuck at the bottom of a mountain, but ended up happier than ever on the other side. Through battling an eating disorder, depression, and a few other obstacles, she has found healing, health, and happiness through therapy, meditation, and yoga. Jennifer has also found comfort in sharing her story, with hopes to help others rebuild their lives and have faith to move forward and follow their dreams into their future.
For more on understanding the types, risks and signs of eating disorders along with ways to cope and find help, download your free eBook.