Real Stories of Hope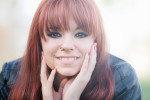 I have always been overweight and insecure.  In the fifth grade I started cutting and I just couldn't stop.  It's an addiction and I did it all the time. One day in the bathroom, when I was washing my hands, one of my "friends" saw my cuts and she asked what they were and if I did them….
Your Stories of Hope Have you talked to Dawson McAllister on the air or has a HopeCoach at TheHopeLine® helped you? Or do you have a story of how you overcame a struggle like addiction, self-harm, an eating disorder, suicidal thoughts, etc.? If so, we want to hear your story of hope. Take a look at some of the true stories of hope that others, like you, have shared. Help us spread the word that Hope is Here!