Real Stories of Hope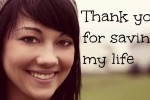 She told Dawson, "Thank you for saving my life." She was about to pop of bunch of pills to end her life, but then Dawson came on the radio. Watch and see what happened.
Your Stories of Hope Have you talked to Dawson McAllister on the air or has a HopeCoach at TheHopeLine® helped you? Or do you have a story of how you overcame a struggle like addiction, self-harm, an eating disorder, suicidal thoughts, etc.? If so, we want to hear your story of hope. Take a look at some of the true stories of hope that others, like you, have shared. Help us spread the word that Hope is Here!