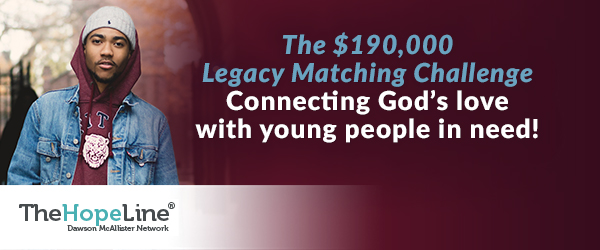 Your generosity will go twice as far, thanks to the LEGACY Matching Challenge.
Before this year comes to an end, you can double the impact of your ministry in the lives of teens and young adults — and deliver the hope they need to keep going.
COVID has left so many 13- to 29-year-olds struggling with loneliness, isolation, and suicidal thoughts — the need could not be more intensely urgent.
Your generous response to our $190,000 LEGACY Matching Challenge will double the impact of your compassion to
Reach the downtrodden
Rescue them from hopelessness and despair
Save their lives by the grace and power of Jesus Christ
Please prayerfully consider how generous you can be and respond as God leads you to give.