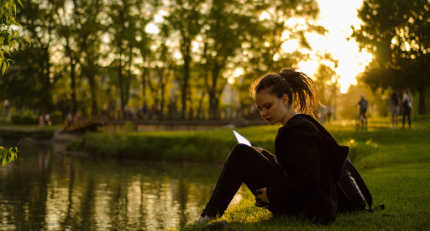 Have you tried everything to find hope, to feel loved, to find something to hold onto, to find purpose? Do you still feel unfulfilled?
Consider this…
The God of the universe loves you and wants a personal relationship with YOU!
And He has a job for you…to LOVE others.

But why? Why would God want a relationship with you?
Here's the deal – God thought about you before you were born. Then He designed you. He created you in HIS OWN image.  You are His, and He knows you personally and loves you so much. God accepts you just as you are.  He's not worried if you've messed up. He's not waiting for you to get your act together. He just wants you to turn to Him and He will help you with the rest.
And yet, so many people turn their backs on God and that breaks His heart.  He desires to fill you with purpose, value, love, and peace. He wants a relationship with you…BUT He won't force it on you. God gives you a choice.
We know this from the Bible which is the oldest historical book on record and the best-selling book of all time, with an estimated 5 billion copies sold and distributed throughout the world.
Before we go further – this is our prayer for you from the Bible:
May the God of hope fill you with all joy and peace as you trust in him, so that you may overflow with hope by the power of the Holy Spirit. Romans 15:13
It is no accident you are reading this today. We believe God brought you here because He wants you to know He loves you. So please keep reading as we share God's story of love and plan for salvation from the Bible.
Let's start here:
For God so loved the world that he gave his one and only Son, that whoever believes in him shall not perish but have eternal life. John 3:16
Here are 4 Things we Learn from John 3:16
God LOVES the world and all the people in it. In fact, he loves us so deeply that he did something pretty extreme
He sent His son Jesus from heaven into the world. Jesus lived a perfect life on earth and died on a cross to pay for our sins.
We just need to believe this and then….
When we die we will live in heaven with God forever!!
Have questions? Chat with a HopeCoach.
Why did God need to send Jesus to die to save us?
God created us so that He could have a relationship with us. But then sin came into the world through Satan, and now all of us are sinners and our sin gets in the way of our relationship with God who is Holy. He knows we will never be able to live perfect, sinless lives on our own, but He still wants a relationship with us.
"But God demonstrates his own love for us in this: While we were still sinners, Christ died for us." Romans 5:8
So Jesus, God's son, came to earth, lived a perfect life, and died a sacrificial death on a cross to pay the price for our sins. If we believe and accept that Jesus did this for us, we will be "washed clean" by Jesus' blood.
Now when God, the Father, looks at anyone who believes in Jesus, He sees us as forgiven and pure through Jesus, and we are able to be in relationship with Him.
"Let us go right into the presence of God with sincere hearts fully trusting him. For our guilty consciences have been sprinkled with Christ's blood to make us clean, and our bodies have been washed with pure water." Hebrews 10:22
"Christ never sinned but God put our sin on Him. Then we are made right with God because of what Christ has done for us." 2 Corinthians 5:21
Picture this:
You are standing before a judge who has a huge list of all the crimes you have committed that are punishable by death. However, there is someone in the crowd who promises to take your punishment of death, and you will be given their clean slate. They are giving you something you don't deserve. And that is what Jesus did for you. But just as you would need to ACCEPT the clean slate in court which you didn't earn, you need to believe in and receive this gift from Jesus.
Is this a lot to process? Chat with a HopeCoach.
Everyone is Welcome
God loves everyone and Christianity is open to everyone. It is not narrow or exclusive…it is freedom and love.
Here's another analogy:
Imagine two student clubs everybody would love to join. To get into the one club, you've got to do a bunch of good things. You've got to be an honor student, a nice guy and a great athlete. If you can't meet the club's high standards, you don't get in.
Then there's the other club. No matter who you are—great grades or bad grades, incredible athlete or horrible athlete—this club is wide open to you. And your dues have been paid in full by the club leader! That club is an example of Christianity.
Does the second "club" sound narrow to you? Actually, I think other religions are a lot more exclusive, because you must live up to all kinds of rules, and even then, you still can't know if you've done enough. But Christianity says, "Jesus has met the requirements. The dues have been paid. Come on in!" (Lee Stroble)
Jesus is the only way to eternal life with God: "I am the way, the truth, and the life. No one comes to the Father except through me." (John 14:6) But that way is open to everyone!
Wondering if this really means EVERYONE, even you? Chat with a HopeCoach 
How will becoming a Christian make a difference in your life?
First – You can rest assured in God's unconditional love.
You no longer need to prove yourself or feel unworthy.  God loves you and is FOR you! Read more about who God says you are here: Verses of Hope for Self-Worth
"This I KNOW: God is for me." Psalm 56:9
Second – You have unexplainable peace. 
Even when things are tough in life (and they still might be) you believe that since God is for you, He is never going to abandoned you and he is working all things out for your good, even if you don't understand it all.  You trust God and know that HE IS GOOD.
"And the peace of God, which transcends all understanding, will guard your hearts and your minds in Christ Jesus." Philippians 4:7
Third – You belong.
You are a member of the family of God. You are welcome here. There is great joy in finding other Christians to be in community with.
"See how very much our Father loves us, for he calls us his children, and that is what we are!" 1 John 3:1
Fourth – Your future is secure!
You are going to heaven!  Don't be fooled…heaven and hell are real. And as a Christian you have the security that you are going to heaven to live with God eternally.  And quite frankly, heaven's going to rock!!  What a great thing to look forward to!
Jesus said: "Do not let your hearts be troubled. You believe in God; believe also in me. My Father's house has many rooms; if that were not so, would I have told you that I am going there to prepare a place for you? And if I go and prepare a place for you, I will come back and take you to be with me that you also may be where I am." John 14:1-3
Do you Want All of this? God's invitation is waiting.  All you need to do is accept it.
Is something holding you back? Chat with a HopeCoach 
How do you accept God's gift of Salvation in Jesus Christ?
Pray to God. Ask Him to forgive your sins and confess that you believe in Him and in the sacrifice of His Son Jesus and that you want to live your life for Him.
"If you confess with your mouth that Jesus is Lord and believe in your heart that God raised him from the dead, you will be saved." (Romans 10:9)
If you are ready, we encourage you to take a leap of faith and give your life to Jesus Christ.
You can pray right now. It doesn't need to be anything scripted. Just pray these things from your heart:
Admit you are a sinner in need of forgiveness.
Confess your sins.
Thank Him for Jesus' death on the cross that paid the price for those sins.
Ask Him to be Lord of your life.
If it helps, here is an example of what you could pray:
Dear Heavenly Father,
I'm sorry for the wrong things I've done. Please forgive me. I believe your Son died on the cross for my sins and rose from the dead, and because of this I will enter into heaven when I die. Jesus, come into my heart and be my Lord and Savior. I willingly give you my life. Now, Father, help me do your will. Thank you again for saving me! In Jesus name I pray. Amen.
If you have prayed this prayer – congratulations! There is much rejoicing in heaven! Please let us know by clicking below and finding out more!