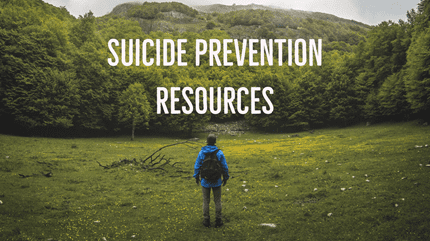 If you are having depression and suicidal thoughts, we are glad you are here.
You are not alone. We care. You can get through this.
6 important tips for RIGHT NOW if you are having suicidal thoughts.
Remember: suicide is preventable. You can get through these intense feelings, and help is available.

Reach out. Below is a list of suicide prevention services, including 24/7 suicide prevention hotlines.
Don't make any important decisions in this moment, especially deciding to die.
Stop drugs and alcohol.
Make your home safe and refer to/create a safety plan.
DO something. (Helpful resources for ideas below. Different things work for different people.)
6 Suicide Prevention Quotes to Get You Through
"The bravest thing I ever did was continuing my life when I wanted to die." – Juliette Lewis

Ephesians 5:29 After all, no one ever hated their own body, but they feed and care for their body, just as Christ does the church.

"There are far, far better things ahead than anything we leave behind." – C. S. Lewis

Isaiah 41:10 So do not fear, for I am with you; do not be dismayed, for I am your God. I will strengthen you and help you; I will uphold you with my righteous right hand.

"I Didn't Come This Far To Only Come This Far" – Tom Brady

Never, never, never give up – Winston Churchill
Suicide Prevention Crisis Lines
NATIONAL SUICIDE PREVENTION LIFELINE – 24/7 
TheHopeLine CHAT
Chat on-line – Get Help
Hours – Monday-Friday – 2pm to midnight (CST) and Saturay-Sunday – 5pm to midnight (CST)
HARD OF HEARING. Contact the Lifeline via TTY by dialing 800-799-4889
SPANISH CRISIS LINE. Call 888-628-9454 or visit Help in Spanish
VETERANS CRISIS LINE – for veterans and families.
Important Websites:
A Safe Space – What do you need right now? Connection, Coping Tools, Distraction?
Now Matters Now – Skills and Support for Coping with Suicidal Thoughts shared through videos.
American Foundation for Suicide Prevention – Help, Stories, Facts, Local Chapters, Survivors of Suicide Loss
SAVE (Suicide Awareness Voices of Education) – Education, Awareness and Training
TheHopeLine Help for Suicidal Thoughts – Podcasts, blogs, stories, videos, resources and more
ThePrayerZone – Have people pray for you and your situation
Videos:
Eye Contact in Emotional Fires –  From NowMattersNow.org. 6 minutes
Reach Out – From TheHopeLine – 1 minute
HOLD ON. From Travis Jacobs 2 minutes
YOU MATTER. – From TheHopeLine – 1 minute
Relax, Focus, Breath – from Mindful Breathing – 5 minutes
Find Peace – from Bethel Music -6 minutes
Helpful Free Apps:
Virtual HopeBox – Distract w/ games, Relax with Guided Meditation, Inspiring Quotes, Customize Coping Cards.  Download on Apple  or Google Play
Breath 2 Relax – Guided Breathing Exercises. Download on Apple or Google Play
TheHopeLine – Live Chat every evening, inspiration and resources. Download on Apple or Google Play.
Articles:
Hope from God:
Bible Verses of Hope – Understanding God's Hope and Help for Suicidal Thoughts
Are You Looking for Peace and Joy?
Suicidal to Accepting the Love of God
Free eBooks: