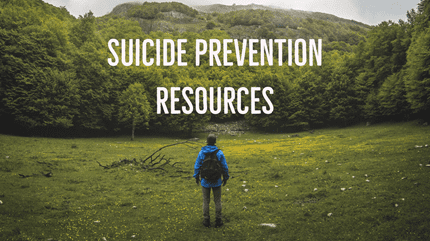 If you are having depression and suicidal thoughts, we are glad you are here.
You are not alone. We care. You can get through this.
5 important tips for RIGHT NOW if you are having suicidal thoughts.
Remember: suicide is preventable. You can get through these intense feelings, and help is available.


Reach out. Below is a list of suicide prevention services, including 24/7 suicide prevention hotlines.

Don't make any important decisions in this moment, especially deciding to die.

Stop drugs and alcohol.

Make your home safe and refer to/create a safety plan.

DO something. (Helpful resources for ideas below. Different things work for different people.)"
Suicide Prevention Crisis Lines
Important Websites:
A Safe Space – What do you need right now? Connection, Coping Tools, Distraction?
Now Matters Now – Skills and Support for Coping with Suicidal Thoughts shared through videos.
American Foundation for Suicide Prevention – Help, Stories, Facts, Local Chapters, Survivors of Suicide Loss
SAVE (Suicide Awareness Voices of Education) – Education, Awareness and Training
TheHopeLine Help for Suicidal Thoughts – Podcasts, blogs, stories, videos, resources and more
ThePrayerZone – Have people pray for you and your situation
Videos:
Eye Contact in Emotional Fires –  From NowMattersNow.org. 6 minutes
Reach Out – From TheHopeLine – 1 minute
HOLD ON. From Travis Jacobs 2 minutes
YOU MATTER. – From TheHopeLine – 1 minute
Relax, Focus, Breath – from Mindful Breathing – 5 minutes
Find Peace – from Bethel Music -6 minutes
Helpful Free Aps:
Virtual HopeBox – Distract w/ games, Relax with Guided Meditation, Inspiring Quotes, Customize Coping Cards.  Download on Apple  or Google Play
Breath 2 Relax – Guided Breathing Exercises. Download on Apple or Google Play
TheHopeLine – Live Chat every evening, inspiration and resources. Download on Apple or Google Play.
Articles:
Hope from God:
Bible Verses of Hope – Understanding God's Hope and Help for Suicidal Thoughts
Are You Looking for Peace and Joy?
Suicidal to Accepting the Love of God
Free eBooks: