Struggling with Suicidal Thoughts?
A guide to understanding the signs, truths and myths of suicide in teens and young adults.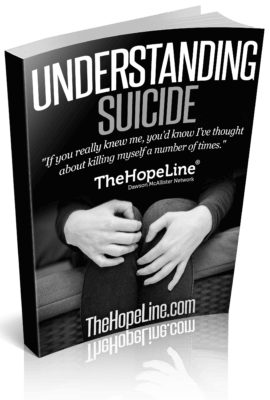 Get Your Free eBook— and Start Your Healing Journey Now
Free eBook: Understanding Suicide in Teens and Young Adults
Suicide Is the Second Leading Cause of Death in America for Ages 15-24.
The purpose of this eBook is to help you…whether you are having suicidal thoughts or are concerned about someone you know who may be considering suicide.  Included are the tools to help you understand the warning signs and risk factors of suicide, along with guidelines on how to help those experiencing suicidal thoughts.  This eBook is interactive and has real audio calls, stories and video from teens and young adults that reached out to TheHopeLine® for help when they were in crisis and having suicidal thoughts. Simply fill out the form to receive your eBook from TheHopeLine today.
You are not alone, if you are having suicidal thoughts and need immediate help, call the National Suicide Prevention Lifeline at '1-800-273-TALK (8255)'.
In this ebook:
40-page magazine-style eBook with photos and a safety plan to download.
Real Audio and video stories from young people struggling with suicidal thoughts.
What to do if you are having suicidal thoughts.
4 reasons to keep working at LIFE.
Included is a coping tool from the American Association of Suicidology.
Information on the risk factors, warning signs, facts and statistics.
The truths and myths of understanding someone that is suicidal.
Find out how to help a suicidal person.
Information for survivors of suicide Loss