Finding Peace In Ways You Didn't Expect
As we continue to cope with the harsh realities of Coronavirus (COVID-19), I am realizing something. During this period, my life and its focus have shifted dramatically. There was life before the pandemic, full of typical routines, errands, outings, and engagements. Now, life revolves around coping with the outbreak, and trying to reduce and stop its spread as we learn more about it. 
In a way, life as I knew it has stopped, and I find I must work on finding peace with this "new normal." If that sounds familiar, it's because adjusting to a "new normal" is part of grieving. In a sense, we are all grieving the lives we once had, and what we have lost as a result of the Coronavirus impacting our lives and communities. Whether you have:
Lost a job 

Have had your education interrupted

Lost a friend or family member to the virus

Lost a

sense of connection

with people you once saw regularly
I know this feels overwhelming. But it is possible to cope with this grief, to experience some healing, and to find peace with this "new normal" we all must adjust to moving forward.
[bctt tweet="We are all #grieving the lives we once had, and what we have lost as a result of the #Coronavirus impacting our lives and communities. We must work on finding peace in this new normal. #COVID19 " username="]
How to Find Peace in the New Normal
Take It One Day at a Time
It is tempting to get stuck in a "when this is over, I will feel better" mentality. But that does little to help us navigate difficult emotions day to day. Focus on each day, knowing a range of feelings will be there, rather than trying to figure out when it will be over, or when the feelings will go away. The more we can adjust to and accept our feelings as they happen, the more at peace we will feel. That's not to say it won't still be difficult, but we will likely be better prepared to cope with the changes in routine long-term.
Don't Force Your Feelings
It's hard not to try to force ourselves out of sadness, anger, or frustration we feel when we're grieving. Those emotions are often uncomfortable, and we want to feel better and happier sooner. But ignoring our feelings and forcing them inside is only going to lead to a greater sense of heaviness and overwhelm down the road. Allow yourself to feel your feelings as you have them, knowing they will pass. 
Treat yourself with the grace, patience, and kindness you would show a good friend who is having the same struggles. Often, when we are kind to ourselves and acknowledge that our feelings are normal and understandable, it has a way of giving us a greater sense of peace and self-acceptance.
Create a Time and Place to Retreat
The seemingly constant news updates, almost none of which are particularly uplifting, means I often find myself in need of a retreat. I may not be able to travel or take a vacation, but I can create a time and place for "retreats" in my home, and make sure that emotional and spiritual "recharging" is part of my new routine. It won't rid me of the grief, but it will put it into perspective. This quiet time will give me a daily reminder of God's peace, which can be experienced no matter what is going on around us.
Seek Grief Support
Experts recommend grief support anytime we experience a significant loss that disrupts our emotional health and our daily routine. As we adjust to a new normal in the time of Coronavirus, we all need extra support. You may be able to find resources through your faith community, your doctor, or your counselor. Or if you don't know who to talk to, you can start right here. Our HopeCoaches are trained to offer encouragement and support to help you cope with grief and loss. Talk to a HopeCoach today via chat or email. We are here for you, and we are going to get through this together.
Do you feel all alone in this? It can be difficult to know how to make the loneliness go away. Read my blog for additional ways to cope with loneliness.
Your Friend,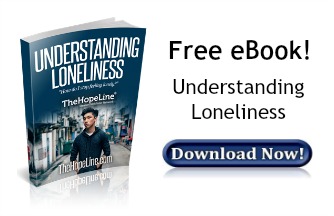 Photo by Mark Mialik