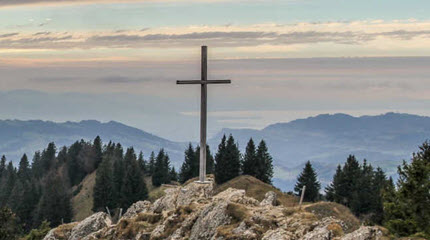 Prayer for Salvation in Jesus Christ
God offers the free gift of salvation through his son Jesus Christ. If you understand the good news of salvation through Jesus' death on the cross and resurrection from the dead, and are ready to ask him to be Lord of your life, here is your next step.
Pray.
Ask God to forgive your sins, confess that you believe in Him and in the sacrifice of His Son Jesus and that you want to live your life for Him.
"If you confess with your mouth that Jesus is Lord and believe in your heart that God raised him from the dead, you will be saved." (Romans 10:9)
If you are ready, we encourage you to take a leap of faith and give your life to Jesus Christ.
You can pray right now. It doesn't need to be anything scripted. Just pray these things from your heart:
Admit you are a sinner in need of forgiveness.
Confess your sins.
Thank Him for Jesus' death on the cross that paid the price for your sins.
Ask Him to be Lord of your life.
If it helps, here is an example of what you could pray:
Dear Heavenly Father,
I'm sorry for the wrong things I've done. Please forgive me. I believe your Son died on the cross for my sins and rose from the dead, and because of this I will enter into heaven when I die. Jesus, come into my heart and be my Lord and Savior. I willingly give you my life. Now, Father, help me do your will. Thank you again for saving me! In Jesus name I pray. Amen.
If you have prayed this prayer, congratulations! There is much rejoicing in heaven.
Please click one of the links below.