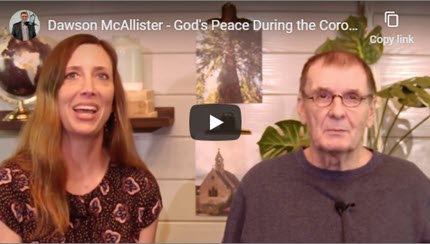 Dawson and Rachel Are Still Hosting The Prayer Show Live
Dawson McAllister and his Co-Host Rachel Cardinal share an encouraging message in this video offering peace and hope as we deal with the Coronavirus crisis.
People are scared and places are closing and canceling, however, Dawson and Rachel aren't going anywhere. They are here hosting The Prayer Show four times a week.
The Prayer Show is a place to get and give prayer. Everybody needs prayer. If you post your prayer needs, Dawson and Rachel will pray for you and so will others joining their live shows. It's a great place to come if you need help, advice, encouragement, and prayer!
God's Love Is Unfailing
We are able to continually offer HOPE in the midst of the anxiety, fear, and uncertainty that many are feeling. And the Hope that we offer is CERTAIN and UNFAILING. And that is the beauty of our God. His hope is never cancelled. We can always walk right into it.
TheHopeLine Is Open and Here to Help
TheHopeLine.com is still open too. It is never closed. We never have to cancel. Our website continues to reach thousands of people every day from around the world offering resources to help you with your issues. We have blogs, podcasts, videos, stories, free eBooks, verses of hope for 50 issues.  Depression, anxiety, suicide, abuse, hate yourself and self-harm are just a few of those topics. For resources: Find Your Issue Here. 
Chat with a HopeCoach 7 Days a Week:
Our HopeCoaches continue to answer on-line chats every evening 7 Days a week. Get Help –  Chat With a HopeCoach
Coronavirus Pandemic Support Resources:
We want to share that hope with anyone who is struggling in this time of uncertainty and that is why we created a web-page specifically to address the Coronavirus pandemic.
We invite you to check it out and share it with anyone you think could use this hope.
Coronavirus: How to Cope with Fear and Anxiety
Coronavirus Bible Verses: 
For more Hope and Peace Read –  40 Bible Verses for Hope During the Coronavirus Pandemic
What You Need to Know About the Coronavirus: 
For more information on the Coronavirus (COVID-19) read "What You Need to Know About the Coronavirus"
"Peace I leave with you; my peace I give you. I do not give to you as the world gives. Do not let your hearts be troubled and do not be afraid." (John 14:27)