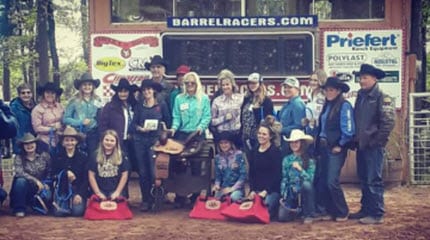 Thank you Dawson
I've been listening to Dawson McAllister since I was in my 20's. First on KJ103 in Oklahoma City and now online. It's been such a blessing to me.  The encouraging words I heard on the radio show and now the community of The Prayer Show have helped me through a lot. I love you guys!
I recently fought through a challenge in order to pursue a dream of mine and I wanted to share my story to encourage others to never give up.  I know how hearing encouraging words have inspired me to keep going and I want to give others that same hope.
Back on the Saddle
I am a barrel racer and have struggled through many injuries.  I've had an especially rough time over the last five years.  I fell in a manhole.  I had a stroke. I have 6 bulging discs. I've been through a lot.
In March I decided to give it a go again.  On a Friday, I made my first run of the day on Cash.  The run was totally embarrassing and discouraging…actually it was unbelievably bad.  I went back to the trailer and literally threw up my hands and wanted to go home. I was crying and so disappointed. I wanted to GIVE UP.
But on Saturday, I had a new attitude. I'm sure prayers helped give me courage.  I woke up and told myself, "I can't give up. I've been through too much and I CAN do this. I CAN ride Cash and win!!
The instructors at the ranch gave me confidence and encouraging words.  Assuring me Cash was a good horse and I was a good rider.  The third barrel instructor was especially helpful.  I will always remember him and his encouraging words.  He took the time to help me change a few things on Cash such as the bridle and the way I was riding him. He gave me a pep talk before I made my final run.
Victory – God is Good
It was my best run in a long time!!  I was crying the whole time after my run. It felt so good.  And I WON!
To think I was going to give up and then ended up winning. Wow!  What a blessing!
So, my message is just when you want to give up, keep pushing forward toward your dreams.  No matter what you go through, the good Lord will bless you and has a plan for you.
-Sabrina
If you have dream you want to follow, but don't know where to start, you might enjoy this post from Dawson McAllister, How to Follow Your Dreams.