Lidya Discovered She Is Never Alone: TheHopeLine® Is There For Her And You 24/7
Lidya shared with TheHopeLine® how important it is to know that you are never alone and that it is important to ask for help.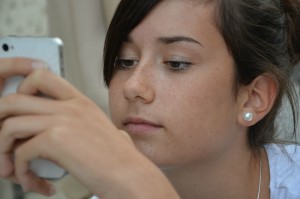 I'm 15 years old and talking on TheHopeLine® really helped me in terms of just getting to know God and myself better. I have struggled with people to the point I would get headaches and get overwhelmed and then would cry. I used to self-harm but God helped me come out of it. Now, I'm not shamed of my scars even if I feel like I need to be ashamed.
I pray and trust God. I know God is making me stronger everyday.
We all have challenge issues problems and really deep insecurities and scars but you are never ever ever ever alone.
And you can begin again in every area.  I can begin again a thousand times if I have to because God makes me new in every area.  I am new. I am healed and you can be too.  Don't ever be ashamed or even scared that people will know that your ashamed because God is there.  I love myself no matter what and I hope this helps someone!
God bless YOU!
God bless me!
God bless all of us!
-Lidya
---
Related Posts:
A Door of Hope
Why Do People Self-Harm?
Real Story: Artist Michaela Hatfield
How To Quit Cutting

---
If you need to talk about some struggles in your life then chat with TheHopeLine: HERE.  And if you or someone you know struggles with self-harm, check out our eBook about self-harm and cutting.