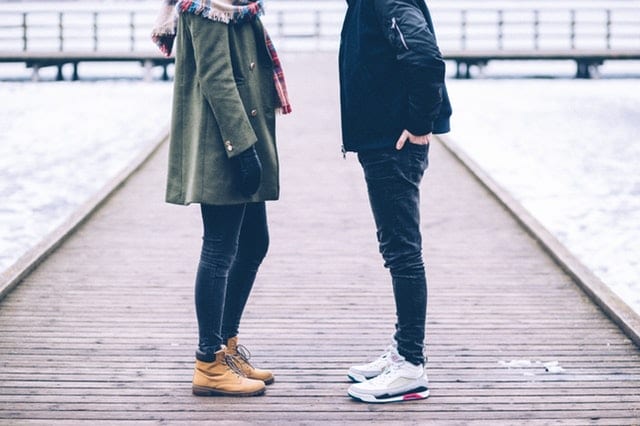 Are You Wondering If You Can Trust Anyone?
You have questions about the opposite sex, things that drive you crazy about guys, and things you can't figure out about girls. These kinds of questions are what I'm answering in this series of blogs. But I can't do this without you, so thanks for sending me the questions you have. I hope my answers are able to help you understand how it's possible to have healthy and positive relationships, even though there will always be some confusion about the opposite sex. In the end, it's just the way life is.
Sarah asked: My boyfriend and I have been dating for almost a year. But all of a sudden I don't feel like I can trust him. He's always had a thing for my best friend. But I don't think I trust either of them right now. What should I do?
---
Related Posts:
How To Find A Meaningful Relationship
How To Know It's Really Love
4 Ways To Avoid Heartbreak
8 Signs Your Relationship Is Unhealthy

---
Unfortunately, finding someone who is completely trustworthy is not an easy thing to do. And often your intuition is right. But this doesn't have to make you a miserable, jealous person, unless you let it. Most likely, you're simply curious about what's going on under the surface between your boyfriend and your best friend. Are they spending time together alone? Do you find them talking together, and then they stop when you walk up? Or are they just being nice to each other?
Jealousy is never a healthy emotion, and it is rooted in fear, insecurity, and selfishness.
There's always a chance you might be overly sensitive to their innocent behavior. But there's also a chance you're not feeling completely valued and respected by your boyfriend, and you're simply trying to find something (or someone) to point to as the reason for it. But you're probably afraid your boyfriend will think you're jealous, or maybe even crazy if you tell him this, and cause a lot of pain with your best friend.
Are feelings of jealousy ever justified? Jealousy is never a healthy emotion, and it is rooted in fear, insecurity, and selfishness. Please don't waste your time feeling jealous. That kind of stinking thinking only makes matter much worse, and it makes you a miserable person. The one thing you can do is show yourself to be someone who is trustworthy. This includes surrendering your desire to be a jealous or controlling person.
If your best friend is doing things with your boyfriend that make you uncomfortable, such as spending time alone with him or whispering behind your back, talk to her about how much her friendship means to you, and let her know that you need her help to make your dating relationship be as good as it can be. Her response to your request will tell you a lot about whether or not you can trust her. You might need to communicate more clearly with your boyfriend about what you're feeling. Don't expect him to be able to read your mind. A difficult aspect of any relationship is having the courage to say the things you need to say the most. These things usually get worked out in the end. So keep the faith and be the loving person you want both your boyfriend and best friend to be.
QUESTION #26) Ben asked: I have a girlfriend who lives about 120 miles from me. Will this work out? We already say that we love each other. I'd love to know what you think.
DAWSON: Well, it might work out. Just remember, there are a lot of people who tell each other they love each other, and then break up the next week. There have been many long-distance relationships that have been very successful. But there have been many, many more that haven't lasted. There is no question it will be difficult for both of you. I'd be curious if your separation is temporary or long-term? If it's temporary, you'll need to be committed to keeping in contact with each other on the phone or through email. Long-term separation is nearly impossible, as many of the best parts of a relationship come out of time when you're able to be together.
A long-distance relationship can be unrealistic, and driven by fantasies about how great the relationship would be if you could just be together. Being apart from each other will make it possible to hide some of the weaknesses each of you would bring into a face-to-face, everyday relationship. It makes it much easier to only show your good side to the other person across the miles.
But if you're just wanting someone to talk to on the phone, you may find great joy in doing that, but you will need to see each other in person at some time or another in order to help keep the relationship realistic and moving forward. If you can, make plans to see each as often as possible. But more than anything, communicate the expectations you have for the relationship with each other so you're both on the same page.