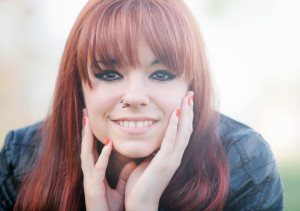 I have always been overweight and insecure.  In the fifth grade I started cutting and I just couldn't stop.  It's an addiction and I did it all the time. One day in the bathroom, when I was washing my hands, one of my "friends" saw my cuts and she asked what they were and if I did them.  I told her I did them and she didn't even care, all she said was "oh, okay."  So that just made me feel even more worthless, invisible, and suicidal.
When I had gotten home that day I went for a walk around my neighborhood and I got taken and raped. I tried yelling for help but he covered my mouth.  I tried telling my dad but all he said was if someone did then you deserved it.  He tied me down to his bed and hit me until I started bleeding then he raped me. When I said I was going to tell my teacher he said if I did then it would just be worse tomorrow. By that time I did everything to die or leave, after a while I went to a hospital for 3 months but then I had to go back to my abusive dad.  No one would see me so I started sending dirty pictures to guys and girls to get attention.
One day I found this website and started talking to someone, a HopeCoach, and they told me I was worth it and needed help to get better.  Since then I have slowly stopped cutting.
I am Whitney and that is my story.
---
Related Posts:
A Door of Hope
Why Do People Self-Harm?
Real Story: Artist Michaela Hatfield
How To Quit Cutting

---
If you are struggling with self-harm you can contact TheHopeLine HERE and check out our page of resources to help you because scars don't have to last forever.
And if you don't want to be that friend, the one that made Whitney feel worse, think about joining Dawson's Tribe.  By joining Dawson's Tribe, you can be prepared to recognize a friend in trouble and then be able to help and guide your friend through their issues. You won't necessarily have all the answers but you will at least be able to let them know you care and then point them in the right direction.