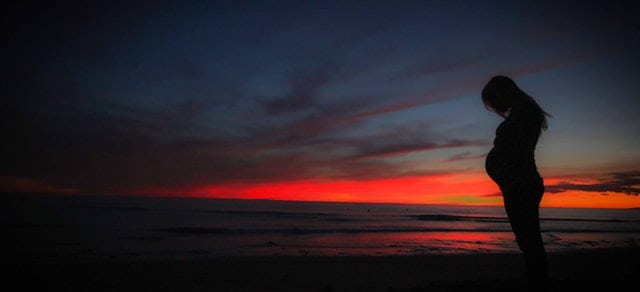 Last week I blogged about getting pregnant before marriage. Very few of these pregnancies work out well. No matter what people say, there is all kinds of pain and havoc mixed with fear. Most people who get pregnant out of wedlock didn't mean for it to happen or have not counted the costs of what it would take to raise a baby, mostly alone. There are others who don't even think about what their actions might do to their family. It is almost always upsetting to the family of the one who is pregnant. While these wounds can be healed, they still cause great damage and hurt in relationships.
I received a comment from a guy named Jonathan who talked about the pain in his family because of an unplanned pregnancy.
My unmarried sister who lives about 800 miles away was talking to my parents on the phone…I heard her tell my parents she was pregnant. She and her boyfriend decided to get married and raise the baby. My mother is very emotional and couldn't even mention my sister for the longest time. Going to the wedding was completely out, because it would have been an emotional train wreck for my mom[she] seems to have mostly recovered and is talking to my sister again, but there is still some hurt inside meThe hardest part is that I don't know when I'll ever see her againand if I do, the kids will have missed out on seeing their uncle for probably several years of their lives. Plus, tensions at home escalatedwhich made things incredibly hard on my dad, my grandmother, and me. At least, through all of this, there is hope. I can be thankful to God that my sister's husband is a Christian man who shouldered his responsibility as a father and not a jerk who ran off at the first sign of trouble.
Jonathan and his family are very fortunate the father of the baby is going to shoulder his responsibilities as a father. I receive hundreds of calls every year where that is not the case, and the mother is basically on her own trying to raise her baby. One has to wonder how is it if having a baby before marriage is so difficult, why so many people still get pregnant, thereby altering their lives forever. It's worth talking about because you may be thinking some of the same things people who get pregnant out of wedlock are thinking. So here goes.
They Think They're In Love
When a person thinks they're in love, nothing else matters. All they want is to keep that feeling alive, that feeling of being super in love
It seems that girls get pregnant because they are so in love with their partners that they do not see anything else.
and cherished and accepted by the opposite sex. The hard, cold reality of unprotected sex does not make a difference on these people. They're living on the we're in lovehigh and nothing else matters. But then, oops, life has a way of showing up and someone gets pregnant. It seems that girls get pregnant because they are so in love with their partners that they do not see anything else, like what the consequences could be.(Mehaa)
It Can't Happen To MeSyndrome
Have you ever wondered why most soldiers are like 19 or 20 years old? It's because when a person is young, he/she can feel bulletproof, like nothing's going to
Teenagers are kind of in denial. The whole we're invincible' stuff is what runs through our head during every situation.
happen to them. Some people feel that way about getting pregnant. They play sexual Russian Roulette and don't think for a moment they will get unlucky and end up pregnant. Sadly, many of these people are wrong. There's an old saying that goes, If you play with the instruments, you will get music.People who play and don't plan for the consequences often end up paying far more than they bargained for.Teenagers are kind of in denial. The whole we're invincible' stuff is what runs through our head during every situation. So if we find someone that we have feelings for and they want to have sex, a teen most likely would. Rebelling for some reason is what teenagers like to do, so having sex is a way to show the parents that you are an adult and you can take care of yourself…(P.J.)

They Want A Child To Love

There are some girls who are so lonely and empty they convince themselves having a baby will give them love. The baby somehow will know to give love back to their mother. But the fact of the matter is babies may be cute, but for the most part they're takers who have great needs. Early in their lives, they have no concept of how to love their mother or father. Teenagers and young adults who plan on having a baby should get their love from some other source, and then give it to the baby unconditionally. They should expect the baby to give back. [Pregnancy] is a growing problem that has a lot of reasons. Many of the girls come from broken homes or parents who don't pay enough attention to them. They are looking for someone to love and they think they will find it in a baby.(Emily)
They Want Attention
Some girls see their friends get pregnant and watch all the attention the new mother gets. 
They say to themselves, If I got pregnant, I could get that attention too.And since these people are suffering from a love and attention deficit, getting attention no matter what the consequences seems like a good option. These people don't think about the huge commitment they are making for a tiny bit of attention for just a little time.They see other people with babies, and how much attention they get, and decide Hey, maybe I should have a kid too'(Richard)
They Are Trying To Keep Their Guy
It is true. Some girls actually think if they get pregnant to a guy, he is more likely to stay in the relationship. Sometimes that is true,
Getting pregnant to keep a guy is the riskiest reason of all. It almost never works.
but usually the opposite happens. On my radio show, Dawson McAllister Live, I hear hundreds of stories of girls who get pregnant and when they're boyfriend finds out, he runs. I call it sex and run. When he finds out his girlfriend is pregnant, he doesn't think about the baby or his girlfriend. He only thinks about getting out of a jam. Getting pregnant to keep a guy is the riskiest reason of all. It almost never works.Another time I came across someone who became pregnant so the guy couldn't leave herOthers get pregnant to keep a punk boy around(Richard and Emily)
There are more reasons than what I have listed of why people get pregnant. Whatever the reason, everyone should think hard and fast about the consequences. Babies are wonderful when you're ready for them, but something quite the opposite when you are not. Just remember, life has a way of showing up. And if you get pregnant out of wedlock, the whole course of your life changes forever.
What would you do if you find out you were pregnant? If a guy, what would you do if you found out your girlfriend was pregnant?
If you are pregnant and wondering what to do, download your free eBook.