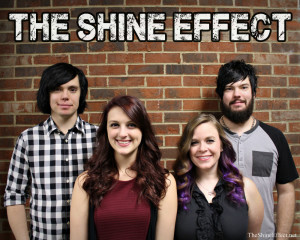 The Shine Effect is a full-time, ministry minded, 4-piece energetic Christian rock/worship band from Jacksboro, TN striving to answer the call God has placed on their lives to serve Him and minister to others through music and testimonies. The band consists of Maria Roberts (vocals), husband Ben Roberts (bass), Ben's brother Josh Roberts (guitar/vocals), Josh's wife Christa Roberts (drums), and friend Kevin Winter (sound/lighting/merchandise). Josh was the lead vocalist of The Shine Effect from 2011-2016 until Maria joined the stage as the lead vocalist at the start of 2017.
The Shine Effect is currently on tour right now. #NewBeginningsTour2017
Click To Tweet
Find their 2017 schedule here!
In May 2011, The Shine Effect released their first full length, self-recorded album, "The Life. The Hope. The Journey.". In March 2013, the band released their 6 song album, "With Open Eyes", which was recorded at The Sound Lair with producer Miah Lajeunesse in Knoxville, TN. They released 2 singles, "Stronger (Hallelujah)" and "Your Beautiful Name", from their "With Open Eyes" album, and received radio airplay on almost 50 radio stations.
---
Related Posts:
How Mandisa Overcame Depression And Found Faith Again
Interview with John Cooper from Skillet about "Stars"
7 Things I Learned About Prayer

---
Since May 2011, The Shine Effect has played over 550 concerts in 27 different states with many great bands and artists. The band has played and ministered at many different churches, youth groups, Celebrate Recovery groups, festivals, revivals, Vacation Bible Schools, Christian camps, Christian and secular venues, community events, fundraisers, public and private schools, county and state fairs, non-profit organizations, etc. Celebrate Recovery is a HUGE passion of theirs as they all participate in the program themselves! They have played, ministered, and shared their testimonies at over 125 different Celebrate Recovery groups!
The Shine Effect gets their name from Jesus' Sermon on the Mount in Matthew 5:14-16.
"You are the light of the world. A town built on a hill cannot be hidden. Neither do people light a lamp and put it under a bowl. Instead they put it on a stand, and it gives light to everyone in the house. In the same way, let your light shine before others, that they may see your good deeds and glorify your Father in heaven."
The Shine Effect has taken this verse to heart and tries to truly be that shining light in a dark world. Their passion is to encourage the church and reach out to the lost through music and love, while making many new friends along the way!
TheHopeLine is honored to be partnered with The Shine Effect for several years now.  They are an awesome group with a heart for God and they are changing lives as they travel across the country sharing God's hope with so many.  As they cross paths with people who might need help, The Shine Effect refers those in need to TheHopeLine.  TheHopeLine is open 24/7 for anyone that needs a beacon of hope in a time of turmoil.
facebook.com/TheShineEffect
twitter.com/TheShineEffect
reverbnation.com/TheShineEffect
Want to learn about other artists who support TheHopeLine?" Check out our ARTISTS PAGE!