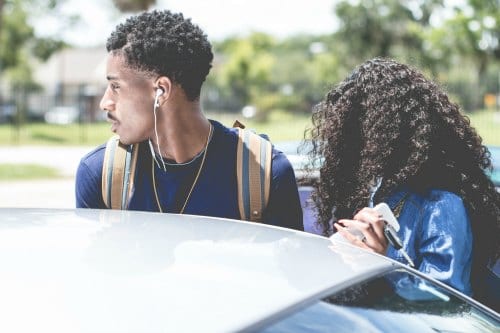 Answers to Your Questions about the Opposite Sex
Let's face it, understanding the opposite sex can be confusing. One minute he seems to like you and the next he's just not that into you. She says she's doing fine, but she sure doesn't act like it. Do you have to read her mind? These are things YOU wanted to know. I will attempt to answer some of your questions about the opposite sex in this blog.
There was a movie about relationships (based on a popular book) called He's Just Not That Into You. I didn't see it, but the bottom line of the story is that men are not complicated. If he doesn't ask you out, call you soon after a date, or want to spend more time with you after a date, then "he's just not that into you." These might seem like simple words, but they can still be harsh for a woman to hear. However, the words can also be very freeing. She is then free to move on to another guy, and not waste her time with someone who's not into her.
However, understanding these clear signs that a guy is not that into a girl, doesn't even come close to clearing up all the confusion. In fact, it leads to even more questions.
How to Let a Girl Down Easy
The first question I'd like to address comes from a guy who asked to remain anonymous, and it completely relates to whether there is a better way to let a girl down then ignoring them.
He asked, How does a guy politely say he is not attracted to a girl? She may be nice, well grounded spiritually, and a great future wife, but when there is no physical attraction, how should that be communicated to the girl?
---
Related Posts:
How To Find A Meaningful Relationship
4 Ways To Avoid Heartbreak
8 Signs Your Relationship Is Unhealthy

---
As we mentioned, most guys will just brush the girl off, and ignore her, neglecting any kind of future contact with her. This is a pretty sad treatment of women. So let's decide to buck the system and treat women with respect and admiration. So how do you do it?
Here are a few pointers:
Keep it simple. Don't make a big deal about it, you'll only make her feel uncomfortable.
Sometimes the best way is to be as honest as possible. But instead of just dropping the bomb on her, you can tell her you're flattered and you appreciate her kindness toward you. And then just say you're not as attracted to her as you'd like to be toward someone you'd like to date.
If you want to be friends with her and nothing more intimate, tell her. But don't tell her you want to be friends with her if you really don't. Don't lead her on.
If the girl hasn't come right out and asked you if you're attracted to her, there might not be any reason to confront the situation. Just be yourself and be kind to her, like you would be to anyone else.
Always remember to address a situation like this apart from other people. Don't make a scene and embarrass the other person. Treat her like you'd like to be treated yourself. The fact you are concerned about addressing this in a polite and respectful way means you're already off to great start.
How Can you Tell When a Guy Likes You?
Chrissie asked: Why do guys act weird around you when they like you?
It is true most guys act weird, or get nervous, around girls they like. Charlie agreed: Stammering and making jokes are common. Trust me, there are few guys who really have deep feelings for a girl that can approach the situation totally calm. But why do they do this?
Guys hate rejection. They hate to make themselves vulnerable to a girl, and then get shot down. This nervousness, or acting weird comes from this place of not knowing exactly how to balance their fear and their excitement, so the guy gets a bit wobbly and tongue-tied.
This is the reason guys will flirt with girls. They will drop hints here and there to see how the girl will react. This way, it's easier to know what the girl is thinking when he sees how she responds to his flirting.
Here are some other signs he might like you:
When you talk with him about other people who you have dated or are interested in, is he supportive and encouraging or does he become quiet and distant? A friend will be supportive, but someone whose emotions are clouded with the possibility of being in love will tend to have a more emotional response.
Does he seem to want to spend time only with you or is he okay doing things in groups? A friend is willing to share you with others, but someone who is trying to balance their emotional feelings toward you may tend to be a bit more possessive.
Do I Have to Read His or Her Mind?
Robert asked, "I have found that girls tend not to speak their minds. Why is that? When you ask, How are you doing?' they may say, I'm all right,' when they're feeling completely the opposite. Do I have to read her mind??"
I have heard that same question from both sexes. Everyone's deepest desire is to be loved by someone who knows everything about us and still loves us! So it would stand to reason then that our biggest fear is that someone would know all about us and reject us. And so we go back and forth with someone we care about. At some moments we dare to show who we are. At other times we cover up what we think might not be met with approval.
The key here is good communication.  If you are feeling frustrated by always having to guess how he/she is feeling, or exhausted by trying to read his/her mind, try gently asking them what they truly mean. In fact your effort to discover what they are honestly feeling might assure them of your desire to really know them.
It's also important to express your commitment when they reveal vulnerable areas of their life. Tell them how much you care about them, and how you desire to understand them better. We all long to be listened to and understood. If you are confused by what they really mean, taking the time to ask for clarification instead of just walking away in a huff will show real love.
What do Guys Look for First?
Back to a common question girls ask about figuring out what guys are thinking. Miranda asked: What exactly do boys think about and look for when they FIRST meet you? I wonder all the time, and I try to read their faces – but what really goes on in their heads?
Honestly…most guys look first to see how attractive the girl is (remember beauty is in the eye of the beholder!), or if there is some kind of chemistry between them. This is the case nine times out of ten. Most guys are very visual and for whatever reason, quickly sum up the impression they have received from the girl in a matter of seconds.
After that, most guys try to figure out what kind of person you are. For example: Are you kind? Are you confident? Do you have a sense of humor? Are you shy? Arrogant? Can you carry on a good conversation? Do you have anything in common? Do you show any signs of being interested in them? Remember, most guys make quick observations about these things.
I'm guessing behind your question is an even more practical one: How do I get guys to notice me? The easy answer to that one is: By being attractive. But you have to realize being attractive doesn't necessarily mean hot or gorgeous. It means being comfortable in your own skin, it means you take more of an interest in other people than in yourself, it means you make other people feel good around you.
If guys aren't noticing you as much as you'd like, it could be you're not portraying who you really are. More times than not, it is how you feel about yourself that determines how attractive you really are. Not every guy is going to think you're the hottest, most beautiful woman in the world. Who cares! What matters is you are who you are, and that you're becoming more loving every day. In the end, that will attract the kind of guy you need to be with anyway.
You might also enjoy some of my other blogs on Understanding the Opposite Sex
When Should a Guy Stop Pursuing a Girl
How to Know if A Girl Likes You
Why Do Women Handle Emotions Differently than Men?
For more insight into the opposite sex download one of our free eBooks today.