Nobody wants to be friends with someone who lies.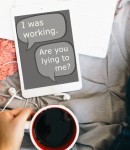 Believing a lie can cause all kinds of confusion and hurt. Many a person's reputation has been trashed by someone else's lie, and others believing the lie. So how can you be aware so you will know when someone is lying to you? It's not going to be completely possible to know every time someone lies, but you can learn to see the signs and read the signals so you're not completely in the dark when someone lies to you (and they will!).
Ericka told me about some of the pain caused by the lying of her ex-husband: I have two young children (3 & 1) and just left their father because he was addicted to gambling. I always thought that cheating would be the worst, but I soon discovered that along with gambling came lie after lie. Our relationship was never going to improve without trust. Discovering his lying earlier could possibly have saved Ericka and her children some needless pain. Would that be possible? I believe it is possibleby figuring out how to know if someone is lying to you.
Lying is a stressful behavior, and it causes people to act differently when they lie.
We've all seen people take lie detector tests on TV or in the movies. It is an effective instrument, not because it can tell right from wrong, but because it can reveal when a person's body is reacting in a stressful manner. Because lying is so wrong, it can cause stressful behaviorshowing signs we can detect through body language.
You can tell how someone reacts to stress more effectively if you know how they act in normal circumstances. Notice normal eye, hand and body movements, and facial expressions during regular conversation. Then you can better notice when the body language changesshowing the stress of lying.
One of the easiest and best ways to tell if someone is lying is by looking at their eyes.
One of the easiest and best ways to tell if someone is lying is by looking into their eyes. Most people who are lying have a difficult time holding eye contact with the person they're lying to. Jenna and Kathryn both agree. Jenna said: It is hard to tell when people are lying to you. But in my case I found that when someone is lying they don't give you eye contact. Kathryn said she used to date a guy who constantly lied, and was really good at it: But I could tell by looking at his eyes when he would lie to me.
Other Signs Someone May Be Lying:
-A lying person may become tense and freeze up while telling the lie. Others may move their body way more than normal.
-A lying person may appear uncomfortable fast eye blinking, scratching, itching, swallowing hard, fidgeting, etc.
-A lying person may look up and to the right.
-A lying person may touch their nose, or cover up their face or mouth.
-A lying person may often raise the pitch or speed of their voice.
-A lying person may present a wide-eyed, innocent look.
-A lying person may create noticeable pauses in the conversation as they are trying to come up with something to say.
-A lying person often tells a different version of their original lie the second time around.
Usually if it feels like a lie, it probably is.
You're not always going to be able to discover if a person is telling you the truth. But you may be able to tell if a person feels like he is lying. And usually if it feels like a lie, it almost always is. More on this next week as I address how to help yourself or a friend stop lying.