A nationwide survey of high school students in the United States found that 16% of students reported seriously considering suicide. If you haven't thought about killing yourself, chances are you know someone who has. High school suicide is more common than most people realize. One study I read revealed that, within a typical high school classroom of 20 students, it is likely that three students have made a suicide attempt in the past year.

Think about that for a moment the next time you are in a classroom. Look around and realize that 3 people you see have felt overwhelmed and considered suicide as their only option out.
Jess has those very feelings: "I have considered suicide many times in my life. I am bipolar and when I get really depressed I want to kill myself. Life also becomes overwhelming with school and things going on at home."
Suicide is the second leading cause of death for 15-34 year-olds in the U.S.
On Saturday and Sunday nights, my radio show Dawson McAllister Live goes for two hours. Sometimes just after the show I say to myself, "While the show was going on, some teenager or young adult across America died by suicide." I am deeply grateful that my show and TheHopeLine have saved thousands of people from killing themselves. Yet I am still haunted by the many we could not reach.
If our blogs on suicide can help one person turn away from taking their life, it will all be worth it. Maybe it will be Jess, or the person who emailed me anonymously: "I struggle with suicide. I just need some help." Or maybe that someone is you.
Here Are 10 Depression and Suicide Statistics
Males take their own lives at nearly four times the rate of females and represent 77.9% of all suicides.
Females are more likely than males to have suicidal thoughts.
About 2/3 of people who complete suicide are depressed at the time of their deaths. Depression that is untreated, undiagnosed, or ineffectively treated is the number one cause of suicide.
People who have a dependence on alcohol or drugs in addition to being depressed are at greater risk for suicide.
Most suicidal people give definite warning signals of their suicidal intentions, but others are often unaware of the significance of these warnings or unsure what to do about them.
Suicide is preventable. Most suicidal people desperately want to live; they are just unable to see alternatives to their problems.
Talking about suicide does not cause someone to become suicidal. It actually helps to talk about suicide, and the feelings and thoughts behind it.
Surviving family members not only suffer the loss of a loved one to suicide, but are also themselves at higher risk of suicide and emotional problems.
People who are depressed and exhibit the following symptoms are at particular risk for suicide:
-Extreme hopelessness
-A lack of interest in activities that were previously pleasurable
-Heightened anxiety and/or panic attacks
-Global insomnia
-Talk about suicide or a prior history of attempts/acts
-Irritability and agitation
Peer support plays an important role in the treatment of mental and substance use disorders and holds a potential for helping those at risk for suicide.
We Can All Help
As Roselyn wrote: We need to find ways among ourselves to prevent suicide from happening, not just leave it to experts or therapists. She is right. Experts are needed, but most people turn to their friends for help first. That is why this blog series may be the most important I have ever written.
If you or a friend need support right now, call the National Suicide Prevention Lifeline at 1-800-273-8255, for free confidential, 24/7 help. Head here for a list of crisis centers around the world. For additional help, please visit the suicide prevention resource page.
For more on what to do if you are having suicidal thoughts or if you know someone who is considering suicide, check out TheHopeLine's eBook: Understanding Suicide.
Your Friend,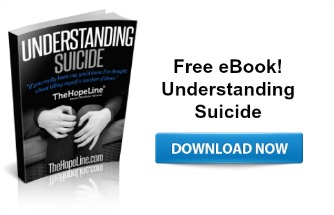 Photo by Andrew Neel
References:
Center for Disease Control 2015 Report
World Health Organization GHO(Global Health Observatory)
TN Suicide Prevention Network Facts About Suicide
National Strategy for Suicide Prevention (NSSP)