Parent relationships can be so special and can make a huge difference in how you get through the tough seasons of life. And as a parent, I can tell you something for certain. Your relationship with your parents helps them, too.

Parent Relationships
But as you grow up, life, school pressures, and work might move you and your parents apart. So, how do you support your parents from afar? How do you let them know you love them and are grateful for their influence in your life when you can't come visit or spend time at home?
How to Be There for Your Parents
#1 Connect for Chats
I love chatting with my family, even when we can't be together face-to-face. And while nothing can replace the joy of being together in person, it helps me a lot to receive their messages, hear their voices, and see their faces.
Supporting your parents can start with something that simple, and it can make a big difference in how they feel. You can call, text, or video chat them to check in with one another. Let them know how things are going at work, at school, and in life. And of course, tell them you love them whenever you can.
#2 Get Creative
Connecting digitally makes things easier and allows you to quickly connect with your parents to support and encourage them. But there's more you can do to show you care for them. You can get creative. Sending cards and letters gives them something from you that they can hold on to and cherish for years to come.
If you enjoy crafting and artistic pursuits, create something for your parents that they can display or use in their home to remind them of the happier times you spent together.
#3 Plan for the Future
Sometimes when you're separated from family, it can seem like you'll never be together again. This can be tough on everyone's feelings. But you can still hope and plan for the future. You can look forward to things to come. Holidays, and other time off work or school, are a great opportunity to get together and reconnect. If possible during one of your check-ins, put time on the calendar in the future when you can see each other again.
#4 Take Care of Yourself
I admire how much you care about your parents, and that you want to support them. Making efforts to do that will go a long way toward lifting your spirits when you have to spend time apart. But don't forget to take care of yourself.
When you start struggling with the reality of being separated from your family, it can help to root yourself in your faith. Don't forget how much you are loved by God, and that He never abandons you. Make sure you are nourishing yourself with food, water, and sleep. Make an effort to do things you enjoy, spend time outside, and unplug from the notifications and pings. Recharging is crucial if you want to support people you love.
[bctt tweet="If you're struggling with the reality of being separated from your parents and family, it helps to root yourself in your faith. Don't forget how much you are loved by God, and that He never abandons you." username=""]
#5 Get Support When You Need It
Supporting your parents from afar is important. But sometimes it's hard to know how to move forward. After all, they cared for you for so many years, and you likely don't know how to support them. TheHopeLine offers mentoring to strengthen your parent relationships, and to make sure you're caring for your own needs. Talk to a HopeCoach today for ideas about how to support your parents, and how to sustain your heart during difficult separation. We are here for you, and hopeful you and your family will get through this together.
Are your parents against your relationship? Listen to my podcast as I talk to Calvin, Erin and Chris on what to do when your parents hate your boyfriend or girlfriend.
Your Friend,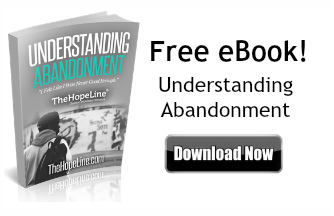 Photo by Sheri Hooley