Are You Feeling Overwhelmed?
It's so hard to be honest with ourselves and others about the effects we feel when our parents break-up. That is because our parent's divorce is devastating. We naturally put up walls, which are filled with denial, silence, and a certain distance between us and others. Yet, these techniques, in the end, fail us every time. That is why I want to try and help you talk about and deal with the emotional effects of your parent's break-up.
We naturally put up walls, which are filled with denial, silence, and a certain distance between us and others.
The fact of the matter is that you are an innocent bystander, experiencing a tragedy to those closest to you. You cannot experience this without it having a profound impact on your life. Judith Wallerstein, an expert on the effects of divorce on children said, "Divorce is not just an episode in a child's life. It's like a natural disaster that really changes the whole trajectory of a child's life."


Ari put it in his own brutally, honest words: "My parents have been divorced since I was five years old; it still affects me today. Through their madness and horrible parenting I somehow managed to survive. It's hard, but it is something that we all, as victims of parental divorce, have to do!"
Like Ari, you no doubt have experienced a lot of different crushing emotions as you attempt to cope with the radical changes divorce has brought to your life. For example, Denisse spoke about her rage: "I didn't want anyone to talk to me about what was going on and I just wanted to be left alone in my pain. I got really angry at my mom for leaving me."
---
Related Posts:
How To Deal With Your Parents' Divorce
3 Keys To Recognizing And Understanding Depression
Problems With Your Step-Mom

---
Whatever you are feeling, no matter how horrific, is normal!
Whatever you are feeling, no matter how horrific, is really normal. It may not be healthy, but it is normal. Yet it is so hard to talk about those feelings. Even to begin to explain how you feel can be paralyzing. Nonetheless, until you embrace your pain, putting it into words, the pain will continue to haunt you and control you. It is absolutely critical to try to describe to ourselves and others just how devastated we feel.
35 Emotions You Might Feel After Your Parents Divorce
See if this list will help you put words on some of the things you are feeling. Journaling is a great way to begin putting a name on the pain you are experiencing. Use the following list of emotions to begin writing about how you feel.
As a result of your parent's divorce you might feel…
Shocked
Numb – sometimes there is an absence of any emotion
Terrified
Confused
Bewildered
Ashamed of yourself because you think you did something wrong.
Guilty – like somehow it's your fault your parents split up.
Angry with yourself because you didn't do things differently.
Angry either toward your parents, or just angry in general.
Sad – "I can't believe it's come to this."
Grieving the loss of being a "normal" family
Abandoned by the parent who moved out of the home.
Afraid of losing your other parent if one parent already left.
Embarrassed – not wanting anyone to know things are going to be different in your family.
Disappointed –
Depressed – like things will never get better
Suicidal
Worried about what is going to happen to you and who will take care of you.
Helpless or Powerless
Unloved
Pushed-aside
Rejected
Protective of one or both parents.
Responsible for your brothers or sisters.
Distrustful
Lonely – you don't have anyone to talk to, BUT remember HopeCoaches are available on chat 24/7
Hopeless
Withdrawn
Worthless
Distracted
Exhausted
Unable to sleep
It's difficult to trust God
Longing – longing for closure or longing for the way things used to be
Relief – if your parents fought a lot or one parent was dangerous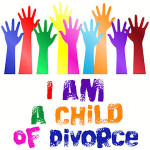 This list might be pretty overwhelming to you. You may even have become aware of feelings you never knew you had. But don't give up. You can, and with God's help, face these emotions and go on, not just as a survivor of your parent's divorce, but as an overcomer. After journaling it is important to talk to someone safe about how you are are feeling. HopeCoaches are available on chat 24/7 to talk about the many emotions you may be feeling right now. You can also comment below about how your parents' divorce is affecting you today. TheHopeLine® also partners with I Am A Child of Divorce for ongoing online support groups and even more resources. TheHopeLine® has also created an eBook with more help.