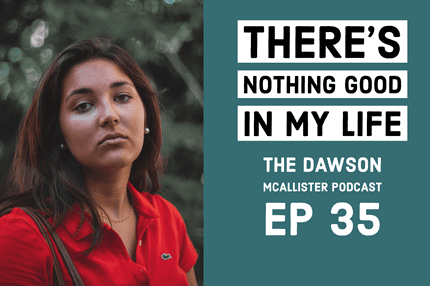 Where's God in My Suffering?
Tiffany says, "My life is a mess. I just feel like everything is wrong." Tiffany's dad died 6 years ago, and everything seemed to go downhill after her dad passed away. Her brother became a drug addict and has done every drug known to man. He got kicked out of rehab last month. Her sister is depressed. Her mom has PTSD and acts out on everything. Tiffany wants to know, "Where is God in all this and why doesn't He answer my prayers?" She feels praying is useless because every time she gets closer to God, something else goes wrong. Plus, she gets no response, is abandoned and left alone to handle all her struggles.
Everyone has told her the scripture, Jeremiah 29:11, "For I know the plans I have for you," declares the LORD, "plans to prosper you and not to harm you, plans to give you hope and a future." But she says, it doesn't make sense because she's suffered so much, and suffering seems harmful.
God's Near to the Brokenhearted
"God is near to the brokenhearted and saves those crushed in spirit." (Psalm 34:18) I think God is preparing Tiffany for something tremendous, to be able to minister to others who feel God has left them.
Peer to Peer: Advice Needed for Tiffany
Tiffany needs to know she's not alone. We asked for you to share your advice and encouragement with Tiffany. Alex, Rose, and Julia all called in with impactful messages of hope to encourage Tiffany and help her get through this hard time in her life.
It's Going to Get Better
Alex has a similar story to Tiffany's. Alex's mom passed away 12 years ago, and she has 2 siblings who've struggled with addiction. Her sister eventually stopped doing the drugs and gave her life to Christ. Alex says to Tiffany, "I know it seems like chaos right now, and a lot of times that is life that we have to go through, but you are building your testimony. Your testimony is going to help so many other people that you don't even know." Alex says God has allowed her to be a light to her 4 siblings. She knows it's difficult to go through the hard times but that's why we lean on Christ and keep praying! It's going to get better!
God Didn't Mean for Us to Do This Alone
Rose's mom passed away unexpectedly when her mom was only 45 years old. A year after her mom passed, her sister died by suicide. Then 3 years later, her bother who was strung up in addiction, died by suicide. She says, it's really hard to see a family member struggle through addiction. Rose says find a church family to help you Tiffany. Find community & support from other believers, who can lift you up and encourage you. God didn't mean for us to do this alone. She said if she hadn't had her church community and small group, she would not have walked through it all in such a positive way. Rose shared the scripture, "For where two or three gather in my name, there am I with them." (Matthew 18:20) She said, if you don't already have a church, go find one because there are so many warm, welcoming churches.
It Prepared Me for Today
Julia said when she heard Tiffany telling her story, she instantly felt the need to call in. She had been in a very bad place, wondering where God was and if he was listening to her, and where was He in all the suffering?
About 5 years ago, Julia was dating someone when she was 19 and became pregnant. Things started getting worse in the relationship. First, it was verbal abuse, then physical abuse and then one thing after another. She didn't know how to get out or who to turn to. She kept thinking, why would God let someone do this to me? Julia said she got out of all of it and she looks back today and realizes it was preparing her for her life now. Now, she's a mother and knows what kind of respect and treatment she deserves. She knows God is always there with her. Even though she didn't know He was there before, she can see now, He was there with her and working in her life. It will get better. Reach out to God!
What advice would you give Tiffany?
Have you ever felt like your life was falling to pieces? Or questioned where God was during your struggles? Will you share your story and what helped you get through? Share in the comments below! What you have to say could be exactly what helps Tiffany and others get through this!
Did Today's Episode Get You Thinking?
Your life might be a mess right now. Everything might be going wrong. But if you listen to others to have been in that place, like Alex, Rose, and Julia, they are telling Tiffany (and you), it will get better. It might not feel as if God is listening or helping you right now, but He is working in ways you can't see. Tell God how you are feeling, what your struggles are, and ask for His help.
God's Got a Plan
Paul said, "For momentary, light affliction is producing for us an eternal weight of glory far beyond all comparison, while we look not at the things which are seen, but at the things which are not seen; for the things which are seen are temporal, but the things which are not seen are eternal." (2 Corinthians 4:17-18) He calls our trials momentary, light afflictions in comparison to the rewards we have ahead of us. We will get to the other side and it will make sense. Meanwhile, Tiffany, don't give up because God hasn't given up. He has a plan and is working right now!
Don't give up because God hasn't given up. He has a plan and is working right now! #nevergiveup
Click To Tweet
Resources for Hope During Dark Times:
If you are feeling like your life is a mess right now and you need hope during this hard time, we have an awesome eBook just for you: Understanding Hope: How to Find Hope.
Also, check out my blogs to help you work through your struggles:
You are not alone! Others struggle with similar doubts, fears, and question God sometimes. Here are some of their stories:
Need to talk to someone about how you are feeling, then: Chat with a HopeCoach at TheHopeLine.
One last thing,
My podcast, our website, everything we do is entirely listener supported. If you'd like to help us to continue our work, please make a gift right now at our Give Now page.
Remember, whatever you do, Never Lose Hope!