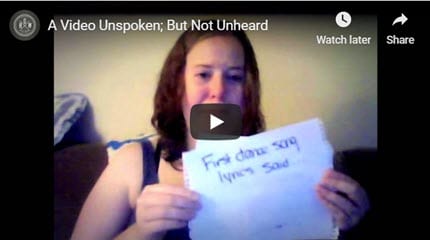 Meet Mariah.  She almost gave up on life.  Here is her powerful story and she has an encouraging message for YOU.
I'm Mariah.
If everything went as planned I would be dead 4 years now BUT that plan didn't work.  And I'm here for a reason.actually a million reasons.  Since high school, I had been depressed.  Ugly, fat, nerd, worthless, the list goes on.  I felt like nothing and was used by many, especially males.  I was raped April 16th, 2011.  The song playing, Casting Crowns – "Does Anybody Hear Her", went through my head that night as I tried to shower him off my body and mind.  The depression followed.  I planned my death.  September 21st, 2011, I sat with pills in my hand.  Next thing I knew, I was being taken to the hospital.  I spent 3 weeks in Psych.  I eventually dropped out of school in 2012 because of the depression.  I was hospitalized two more times for weeks at a time.  I even planned my funeral at one point.
I wished for death every day and had no desire to live. One day something hit me and I realized I needed to be alive.
This is a picture from my wedding day October 18th, 2014me and my husband and our first dance.  My first dance with a man who loves me despite my past. First dance song lyrics said, If you knew how lonely my life has been and how long I've been so alone. And if you knew how I wanted someone to come along and change my life the way you've done. Since my depression spell, I graduated college, are working a job I enjoy, and am happily married. This was my graduation cap:  My Fight is won!  What if I had died?
You are worth so much!
Don't you dare give up on this life.
Not Today.
Not Tomorrow.
NOT EVER!
If you or a friend need support right now, call the National Suicide Prevention Lifeline at 1-800-273-8255, for free confidential, 24/7 help. Head here for a list of crisis centers around the world. For additional help, please visit the suicide prevention resource page.